Description
New standard of Slow Pitch Jerk
This new standard rod series exclusive to Slow Pitch Jerk has 2 directions in its lineup. The first is Tubular blanks. And the second is Full Solid(FSL) blank. Due to the difference of these structures, anglers can expand the possibility of own strategy.
The Tubular models are orthodox Slow Pitch Jerk rods that have good recoil and transmit the input from angler to jigs. The powerful blank with beautiful bending is also a strong point. The blank is also lightened so the sharp sensitivity lets angler sense even small bites by fish even from hundreds water depth. Aggressive approach to fish is possible with Tubular.
On the other hand, Full Solid(FSL) blank is a totally new trend for Slow Pitch Jerk. FSL blank has only long fibers arranged in a single direction can follow the load as keeping perfect circle shape. The different feature from Tubular reduces unnecessary jumps of jigs and makes jigs drift in water so that the jigs will be more effective for the fish that dislike furious actions of jigs. Besides, the deep bending of blanks follow the powerful running of fish and doesn't expand the hole at hook point so that the percentage of lost fish will be reduced. Safe fight is possible even with big fish due to well-bending FSL blanks.
The lineup is wide so you can find the best model for you. With these 2 different concepts, the world of Slow Pitch Jerk should be expanded.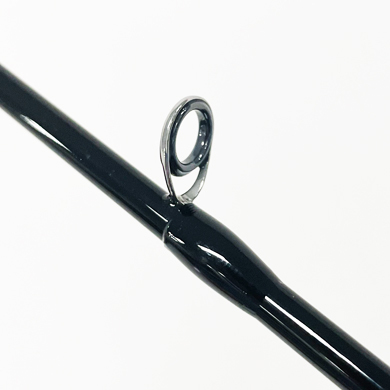 KT guides on tip section contribute to the lightness and flexible bends.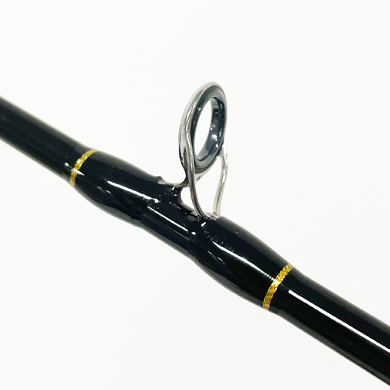 LKW is installed at butt section to get lightness and toughness due to Double-foot.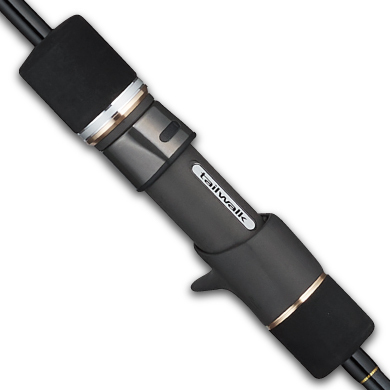 T-DPS reel seat is equipped to hold even bigger reels securely.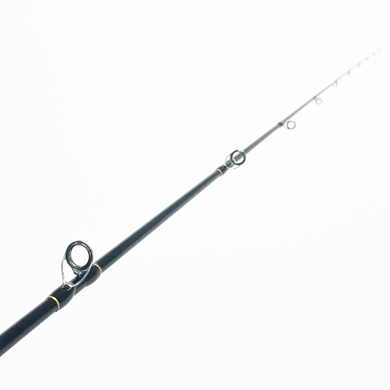 SPIRAL GUIDE SETTING(FSL MODEL)
The guides are set in spiral style to get smooth bends and lightness.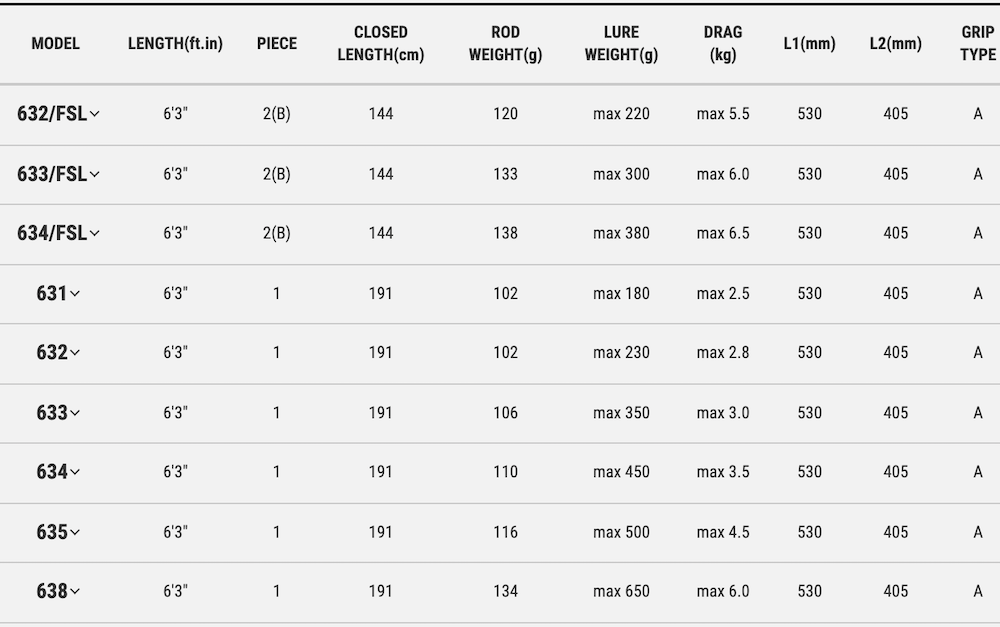 FULL SOLID SLOW PITCH JERK ROD
・Available for several target fish
・Well-bending Full Solid blanks
TARGET: Snappers, Jacks, Groupers, LURE JIG WEIGHT:MAX 220g, ACTION: SLOW
FULL SOLID SLOW PITCH JERK ROD
・Most standard model in FSL models
・Available for several target fish
・Well-bending Full Solid blanks
TARGET: Snappers, Jacks, Groupers, LURE JIG WEIGHT:MAX 300g, ACTION: SLOW
FULL SOLID SLOW PITCH JERK ROD
・Best for jigs around 250g on Jacks and Tuna
・Available for several target fish
・Well-bending Full Solid blanks
・Available for several depth up to 300m
TARGET: Snappers, Jacks, Groupers, LURE JIG WEIGHT:MAX 380g, ACTION: SLOW
TUBULAR SLOW PITCH JERK ROD
・Available for light jigging
・Best model for shallow area with jigs up to 180g
・Available for several target fish
TARGET: 
Seabass, Jacks, Groupers, 
LURE 
JIG WEIGHT:MAX 180g, 
ACTION: 
SLOW
TUBULAR SLOW PITCH JERK ROD
・Available for several target fish
・Good for making gently action of jigs even in slow current
TARGET: 
Jacks, Groupers, 
LURE 
JIG WEIGHT: MAX 230g, 
ACTION: 
SLOW
TUBULAR SLOW PITCH JERK ROD
・Most standard model in several fields and situations
・Available for several target fish
・Available for several depth up to 300m
TARGET: 
Jacks, Groupers, 
LURE 
JIG WEIGHT: MAX 350g, 
ACTION: 
SLOW
TUBULAR SLOW PITCH JERK ROD
・Power model with flexible tip section
・Available for several depth around 300m even in fast current
・Good for quick action and speedy fall
・Useful also for Jacks and Groupers in depth shallower than 200m
TARGET: 
Jacks, Groupers, 
LURE 
JIG WEIGHT: MAX 450g, 
ACTION: 
SLOW
TUBULAR SLOW PITCH JERK ROD
・Power model for big fish and heavy jigs
・Good for depth around 400m
・Comfortable with jigs 400-500g in fast current
・Best for big Jacks in deeper range than 200m with jigs around 350g
TARGET: Big Jacks, Groupers, Tuna, LURE JIG WEIGHT: MAX 500g, ACTION: SLOW
TUBULAR SLOW PITCH JERK ROD
・Perfect match to deep jigging for 400-500m depth
・Blank's power comfortably used also when the current flows complicated
・Good to make strong and aggressive action of jigs
TARGET: 
Big Jacks, Big Groupers, 
LURE 
JIG WEIGHT:MAX 650g, 
ACTION: 
SLOW
Customer Reviews
{{'product.product_review.no_review' | translate}}