Description
Light and compact bait-casting reel for multi-purpose of boat lure fishing
In the recent tough situation of fishing, it's getting more important to make it sure to get more information from the water and take few small bites. To achieve these factors, tailwalk pursues "silky but powerful winding" that is always an important point for several light offshore fishing such as Tairubber, fishing on squid, seabass, rockfish, blue-backed fish. Please feel "sensitiveness and expressiveness" of this light compact reel.
The compact body with the slim side palming cover lets the user grip more tightly and improves the operability of lures and the sharpness of hooking. Besides, the carbon power handle with the balancer and power knob supports the light and steady retrieving even with large load in over 100m depth.
Due to the stationary drag, the reel's drag power can be adjusted finely and gradually from 500 g to 1500 g that is the main range of drag for light jigging and Tairubber. You can set the drag precisely and catch your fish surely.
■ 110mm single balancer handle & 39mm EVA round knob
■ 6-pin centrifugal new brake system that can be adjusted from outside
■ Clicker drag sound system
■ Stationary drag that the drag tension can be set gradually by
■ Reinforced carbon material side cover
■ Compact & low-down design with slim side palming cap
■ 7075 Aluminum alloy drive gear
■ 3 carbon drag washers to make drag force and smooth slip
■ PE1-300m spool with marking of PE1-200m with backing line
■ Light shaftless 32mm diameter Aluminum spool reducing the friction during rotation
■ Slide one-touch-open side cover with anti-falling function
■
Maximum handle hoisting capacity of 73 cm (1 revolution)
■ Mechanical brake knob with click sound & anti-falling function

The light and compact reel body with the Aluminum center frame and the side cover made with a reinforced carbon material.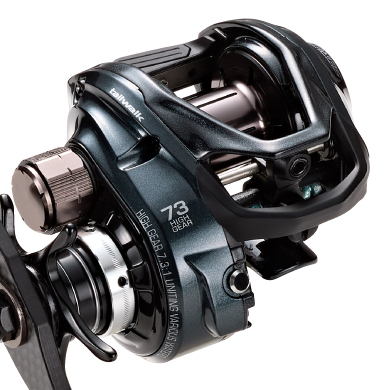 CARBON POWER BALANCE HANDLE
The carbon handle with a balancer weight (36mm EVA round knob / 110mm single arm). Useful for the power fight and deep water.
Responsive 32mm diameter spool with 300m line capacity for PE #1. Useful for fishing in deep range.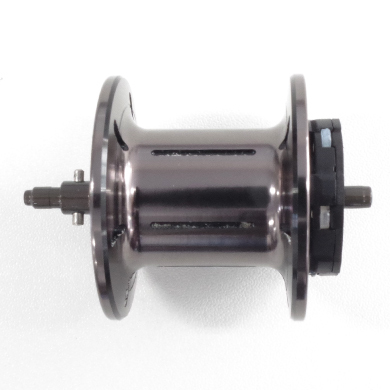 The drag power can be adjusted finely and gradually from 500 g to 1500 g to fight carefully with thin line.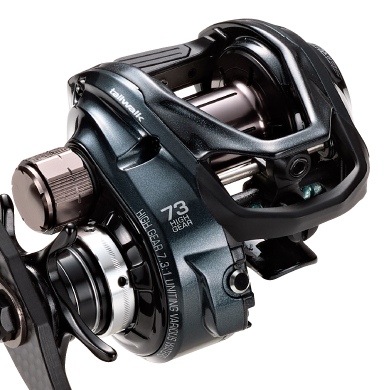 A new brake system that can be adjusted easily with a dial from outside. Easily changeable from vertical style to short casting style as adjusting the brake power.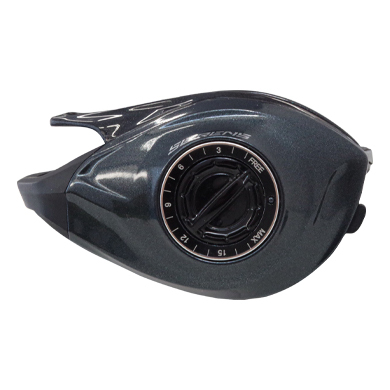 The polygon knob is easy to turn and the stopper function avoids the dropping-out accidents.