Description
Invite fish with the vibration of minnow-like wobbling action
Supervised by Go Nakamura. The operation method is extremely easy, just wind it slowly and swim with a wobbling action like a minnow due to its unique form.
Of course, even with normal slow one-pitch, slow-pitch, long-fall, etc., it slides horizontally in a short slide, and the wobbling wave that occurs at the time of the initial movement further amplifies the appeal power, attracting various fish species such as root fish, blue fish, hairtail, red sea bream. It is a new concept metal jig that discovers new possibilities unlike any other.
The biggest feature of Woblin [WOBBLIN] S is, as its name suggests, a minnow-like wobbling action. If you pull diagonally from the side or receive the tide from the side and the speed matches, you will wobbling violently. The swimming jerk that I advocate, which is just a volume with a slow straight start, is an example of an effective jerk of WOBBLIN S.
In a situation where there are many baits and it is easy to prey, they will not choose a jig for violent action or fast action. Even if you start slowly in a straight line, if you wobble with a fluttering action instead of a stick pulling action, it will only react in a straight orbit, such as red sea bream that is preying on the bait by pressing it on the bottom, sea bass that is preying on the area full of bait. It should be a very strong jig for hairtails and root fish with a short reaction area.
Furthermore, even in areas where the bait is thin, the vibration is attractive not for the bait fixed in the narrow area at the bottom, but also for the blue fish that recognize moving objects as food and prey on them.
Even if you throw it with a doterra sink or spinning tackle and pull it diagonally, or if the line is thick and the line slug becomes large, the action of the jig itself is good, so the range of use will expand. Of course, even if you mix curve fall with stop & go, you will invite a reaction bite. 

However, there are many scenes where jigging is inevitably vertical, and swimming jerk alone cannot handle it. In addition, I wanted to make a jig only if I could perform attractive actions firmly even in a combination of swimming jerk and other jerks and falls, so I made improvements and made it the current shape. As a result, it slides horizontally in the normal slow one-pitch, slow-pitch, and long-fall. Since the action starts from the timing when facing sideways and the subtle wobbling is activated at the moment when turning from vertical to horizontal, there are countless hit rates that are not found in other jigs even in vertical until now. .. Also, if you give a slug to throw a line from a long jerk, a general jig will start to sink while drawing an S shape, but Woblin [WOBBLIN] S keeps sideways and backslides in one direction. Start the action. It turns out that there is an amazing hit rate at this timing. Please enjoy the pleasure of connecting to a hit by taking the Atari where the thrown line stops suddenly.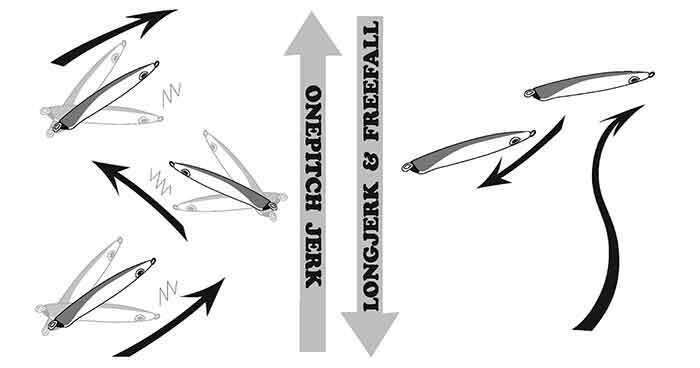 7g, 14g, 24g are small sizes suitable for casting from the shore. When the speed matches with the diagonal retrieve, a minnow-like wobbling action starts. It features a quick wobbling action in small steps. It is no exaggeration to say that the swim is a sinking minnow with a jig's flight distance, and it shows a swim full of life.
It is a jig with unknown possibilities. It is a jig that I would like you to try various jerks in various situations.
We look forward to your continued patronage of WOBBLIN S.