Description
The Ocean Performance collection is a first-class technical choice who meets the demands of outdoor professional, superior fabric and advanced technologies who guarantee a maximum protection even in the most extreme conditions.
This long-sleeved t-shirt is made from an high technical fabric in  88% polyester and 12% spandex (150 gsm) and having the following advanced features:
· UPF 50+
The highest-rated UPF who blocks out more than 98% of UVA and UVB rays. Maximum sun protection, offering a barrier from the sun's harmful UV rays, designed to keep you safe and comfortable even when faced with extreme temperatures and sun exposure.
 
· QUICK DRY & BREATHABLE
Breathable fabric pulls moisture away from your skin and evaporates it through the shirt into the air, keeping you dry and regulating your body temperature.
 
· STAIN GUARD COATING
Thanks to this treatment the fabric resists soil, stains, and spills. It keeps fabric looking new longer and facilitates easier cleanup.
 
· ANTI-MICROBIAL & ANTI-ODOR
An antimicrobial treatment destroys or inhibits the growth of a wide range of microorganisms and prolonging the life of the fabric.
Microorganisms include bacteria, viruses, protozoan and fungi, like mold, mildew, algae and yeast. The treatment helps to avoid odor build-up when ambient moisture is present and to make sure you feel good even on strenuous fishing sections.
 
· SOFT & STRETCHY FABRIC
Made from a lightweight stretch fabric, high quality polyester super soft against the skin, you will not want to take it off. The exceptional elasticity of spandex fibers grants maximal freedom of movement.
 
· ABRASION RESISTANT
Polyester is comfortable yet durable, abrasion-resistant, and it does a good job of retaining its shape after repeated use, built for maximized ruggedness and it is ideal for extreme and extended use. 
Sea anglers expect the best. That's why the Ocean Performance Collection is technically advanced and fashion forward, it's tailored for higher expectations; with the long-lasting performance you trust, and details that demand attention.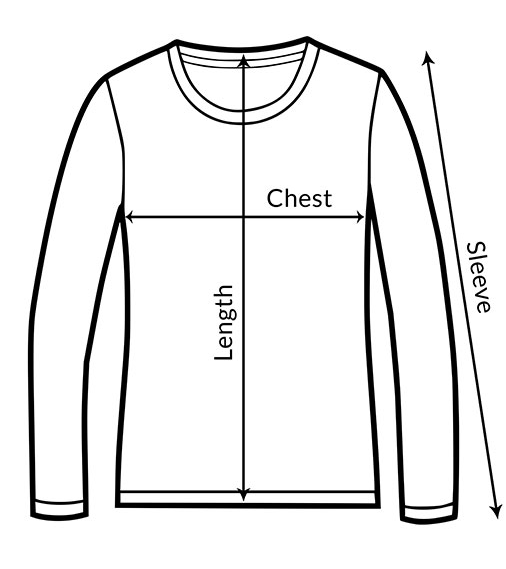 Each product can have a different wearability, before to buy please read the below advices and check the following size chart expressed in cm:

| | | | |
| --- | --- | --- | --- |
| Size(cm) | Chest | Length | Sleeve |
| S | 46 | 71 | 63 |
| M | 51 | 73 | 66 |
| L | 56 | 76 | 68 |
| XL | 61 | 78 | 71 |
| XXL | 66 | 81 | 71 |
| XXXL | 67 | 81 | 73 |
The measurements should not be taken to the millimeter, but they are extremely indicative (there is always a margin of tolerance, ± 0.5cm).

We would like to suggest the best method to check which size to choose:
1. Take your favorite t-shirt, the one that best suits your body.
2. Lay the garment on a flat surface.
3. The garment must be relaxed, stretched out as if it was ironed.
4. Measure the chest width from the two side seams that start under the armpits.
5. Measure the height starting from a side of the neck to the waistline.
6. Compare these measurements with the size chart we supply for each product in order to select the right size.
7. When you are undecided between two measures, we always recommend opting for the larger one.