Description
Rubber jig equipped with "special structure CJS (Change Joint System)" that can quickly replace hooks
Texas rigs are not appealing enough.... Regular rubber jigs don't stand out... In such situations, the perfect solution is the 'Steeds Flex Jig,' a jointed rubber jig designed under the supervision of professional angler Kazuma Izumi, equipped with the special 'Change Joint System' (C.J.S.).
The silicone skirt directly attached to the sinker section of the head enhances its appeal underwater with alluring movements. The unique jointed structure allows for easy and flexible hook replacement 
at the fishing spot.
Exactly the best item of combining advantage of Texas rig and rubber jig!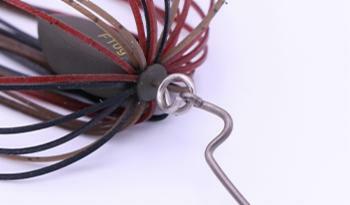 Equipped with C.J.S. (Change Joint System)

The joint between the head and hook uses a special structure that allows the hook to be replaced without using a split ring and without pliers. By not using a split ring, the hook does not turn sideways after landing, making it easier for the needle tip to point upward, improving hooking performance. It also reduces the risk of losing the hooked fish when an excessive load is applied, the ring stretches and the hook comes off. Regarding the development of the C.J.S. system, when I conducted actual fishing tests with Izumi Pro and Dream Lake in Ishikawa Prefecture, 
Over 70 fish in the 40-centimeter range were successfully landed
, but there was no phenomenon that the connector and the hook came off. I repeated the test many times at Lake Kasumigaura and Lake Biwa, but neither of them came off the hook. I want you to use it with confidence!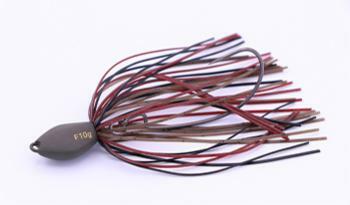 Outstanding slip-through performance

The jig features a streamlined design with the line eye located at the tip of the head and no brush guards or other guards included. This plain form reduces the likelihood of snagging or getting stuck on objects and enhances the weedless effect. Additionally, the bending or curving of the head and body (hook) allows it to smoothly navigate through tight spaces and obstacles, akin to the agile movement of a snake.
Customer Reviews
{{'product.product_review.no_review' | translate}}